Beginning its journey being known as merely the garden city, Karnataka's capital has risen beyond expectations with respect to modernization, industries and the cosmopolitan culture to become one of the most sought after cities in the world.
With more focus on this beautiful city, tourist footsteps keep on increasing at a baffling rate and what is the best way to woo them other than the modern amenities and western lifestyle predominant here? Food! Good food seems to be the solution to almost every problem. Keeping this in mind, a lot of restaurants have grown in Bangalore over the years offering varieties of dishes and cuisines to appease all taste pallets. So, to help you find some of the best restaurants, we have made this list of some of the best restaurants that we fill is a must visit in Bangalore.
Sometimes you just want to get away from all the city traffic, noise and bustle and enjoy a quiet and comfortable meal. Well, that is what the Grasshopper offers to its customers. Run by fashion designer duo Sonali Sattar and Himanshi Dimri, it offers the finest meals and intricate designs to gawk upon within its four walls. Located on the duo's farm, it is the perfect location to enjoy a quiet and cozy meal along with occasional live performances that allow you to relax and enjoy your drinks while going through their seven course menu.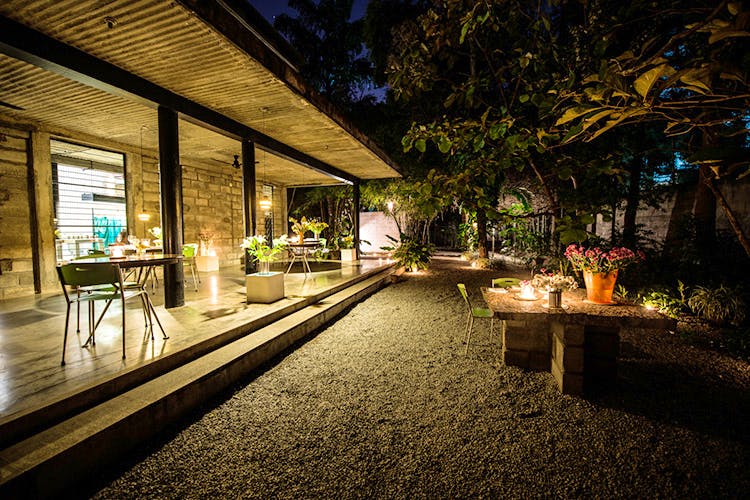 Located in the heart of Bangalore, this restaurant offers continental food that you can savor forever. With a lively staff and casual ambience, it is the perfect spot for meetings with friends or colleagues and enjoy the delicacies.
One of the most desired restaurants in the city, this restaurant also features in San Pellegrino Asia's 50 Best Restaurants list. The restaurant offers a feast of south Indian delicacies from seasonal curries to wood-fired meats. The restaurant allows you to explore the culinary diversity of the south-western communities and enjoy their specialties. Although seafood dominates the menu, there are many choices for vegetarians.
Located in central Koramangala, this fast food joint is known for its mouth watering burgers and perfectly cooked steaks. It is also probably the only fast food joint that has the most number of table reservations as one does in a restaurant.
A common name amongst the locals, this café offers a small town café vibe with both indoor and outdoor seating that allows its customers to enjoy a nice pleasant experience. Due to its ambience and delicious food, the café has managed to woo its customers and develop quite a fan base for itself.
Located within the ITC Gardenia Hotel, this restaurant is an authentic Japanese eatery that offers a wide variety of Japanese delicacies.  The open sushi bar allows customers to stare in awe and wonder as the talented chefs work their wonders while preparing the meals. Not going overboard on the décor, the restaurant gives out a simple relaxing vibe that goes wonderfully with its outstanding dishes.
This café, famous amongst the locals, is famous for its delicious burgers. The freshly made gourmet beef burgers are offered with a wide range of toppings that range from simple to adventurous. If you are looking for something not as simple as a mere beef patty, then gonzeshwara burger is a must try – it is a burger with a fillet steak wrapped in bacon, topped with cheese and an egg. The café also caters to vegetarians with a wide range of mouth watering veggy burgers on the menu.
This eatery has been dishing out vegetarian dishes since 1924, making it the oldest 'idli dosa' place in Bangalore. Its rise to fame came with its invention of the Rava idli during World War II when rice was scarce.  While other restaurants attract you with their ambience and décor, this restaurant appeals to your food cravings with its simple dishes and historical importance.
This is yet another veteran restaurant that has been in business for decades in Bangalore. Although the outside may not be appealing, the interior is what seeks your attention. The restaurant offers the ambience of a mansion on the inside with chandeliers and beautiful murals painted on the walls. If it's Punjabi food that you are craving for, then this is the place to be. The kitchen has large glass windows that offer you a view of the tandoor and the chefs at work, making you crave even more.
This restaurant is the brain child of two chefs travelling traveling 20,000 kilometers over 100 days and across 10 regions in Karnataka to learn about the rich and diverse culinary heritage. As a result, the restaurant serves up Karnataka on a platter with its wide range of dishes from South Karnataka, the Canara coast, the Western Ghats, the Deccan tract of North Karnataka, and the borderlands of the Hyderabad-Karnataka region. Many recipes come from local communities that have been passed down through generations as a family heritage and custom.
This is not the end to the list. We will soon be sharing more and more options for you to relish your lip smacking food. Make sure to follow us here so that you don't miss the future posts, which will be too much of a miss to you, we bet.
Do follow us on all the social media platforms. You will love it!